CalendarHero

Webinars, Made Simple: Zoom Webinar and CalendarHero Integration
New Integration: Add Zoom Webinar to CalendarHero to simplify webinar registration and provide the best possible experience for attendees.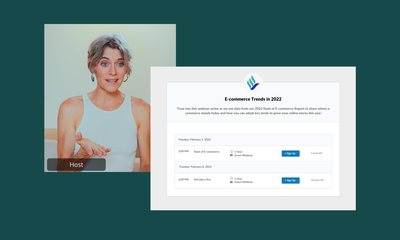 Virtual events like webinars are a must for any modern marketer or business hoping to connect with a larger audience. Webinars can help to humanize brands, giving businesses an interactive and visual medium to engage customers. 
Types of Webinars:
Thought Leadership: Share expertise about digital marketing, SEO, business leadership, and more to help others succeed. 

Lead Nurturing: Share high-level information about your services to prospects. 

Product or Service Demos: Engage customers with a new product or service walkthrough.

Educational Webinars: Build an e-learning or coaching business with a virtual classroom. 

Virtual Fitness: Host a yoga class on Zoom to expand fitness offerings online. 
That's just a glimpse of the kind of webinars that can help businesses win new customers and grow their audience. After launching CalendarHero Group Class in July, we've continued to enhance how we help businesses schedule webinars hassle-free. 
With CalendarHero, webinar hosts can provide attendees with a single destination to self-register for a virtual event like a remote seminar or pilates class. Automate attendee reminders to reduce no-shows, collect payment upon registration for paid webinars, and ensure a calendar event is created for attendees automatically. 
We're excited to share another big enhancement: CalendarHero now integrates with Zoom Webinar. By pairing Zoom Webinar and CalendarHero, we're enabling businesses and teams to bring powerful scheduling automation to virtual events. 
With the new Zoom Webinar integration, webinars become easier to plan, host, and manage, so teams can devote more time to marketing webinars, creating engaging content, and connecting meaningfully with their audiences.
What is Zoom Webinar? 
Zoom Webinar is an industry-leading webinar platform that allows you to connect with larger audiences and share video, audio, and other content from any location and device. Zoom Webinar is ideal for hosting marketing webinars, educational lectures, and virtual fitness classes. CalendarHero integrates with Zoom Webinar to simplify attendee registration for webinar organizers. 
What is the difference between Zoom Meetings and Zoom Webinar? 
Zoom Meetings comes to mind when most people think of video conferencing. Use Zoom Meetings for remote meetings and appointments that require participation from your attendees, such as sales calls, one-on-one product or service demos, and discovery sessions. CalendarHero also integrates with Zoom Meetings. Connect Zoom Meetings to CalendarHero to automatically add video conferencing to any meeting or appointment. 
How to use Zoom Webinar with CalendarHero 
Use Zoom Webinar with CalendarHero Group Class to simplify hosting webinars and provide attendees with a seamless registration process. 
Registration 
Create a single destination where prospective attendees can self-register for your webinar, event, or online class. After registering, CalendarHero will add the event to their calendars automatically.
Attendee Limits 
CalendarHero can support up to 1000 attendees. However, webinar organizers can set a maximum attendee limit to control the attendee volume of your webinar. 
Sign-up Progress 
As the webinar organizer, view and manage the sign-up progress of your webinar from your CalendarHero account. You'll be notified each time someone new signs up. 
Payment Collection
Make it easy for attendees to sign up and pay simultaneously. If enabled, attendees will be able to pay with a credit card while booking. 
Cancel an Event 
Take the stress out of canceling. Quickly cancel an event and automatically notify attendees. If an organizer has collected payments and enabled "auto-refund," attendees will be automatically refunded. 
Reschedule an Event
Seamlessly reschedule a webinar to a specific time and automatically notify attendees of the change. 
Remove an Attendee 
Did an attendee accidentally register for the wrong event? Quickly remove an attendee and notify them of the change automatically. 
Promote Multiple Webinars 
Want to promote multiple webinars? Create a meeting directory to make it easy for attendees to browse and sign up for different webinars. 
Ready to empower your clients with the latest in scheduling technology? 
PS Did you know online scheduling was recently added to the Snapshot Report? Learn more