We know that to succeed in a digital-first climate, local businesses need to have the tools to sell their products, services, and time online. 
That's why we're thrilled to reveal a new enhancement to the Snapshot Report: Online scheduling is now part of the ecommerce section. This new addition will detect if your prospects can accept online bookings for appointments, classes, or meetings from their website using a recognized meeting scheduler like CalendarHero.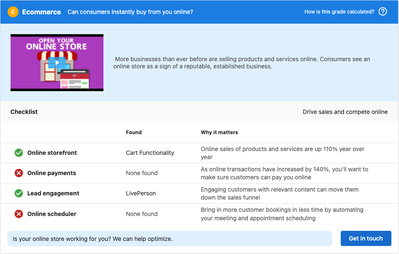 Increase the number of revenue opportunities for your prospects by ensuring their website has an ecommerce presence.
A survey by GetApp found 94 percent of customers are more likely to choose a new service provider if that provider offered an online booking option. That's a huge number! 
Don't let your customers lose market share by not providing them with an online scheduling tool. Online scheduling is vital for appointment-based businesses like home service professionals, real estate agents, and lawyers. 
Using a meeting scheduler like CalendarHero will help your customers: 
Generate bookings and leads 24/7 

Impress new clients

Deal with fewer phone calls (and back-and-forth emails) 

Save costs and reduce "no-show" risks

Boost cash flow (accept payments with bookings simultaneously) 

Increase employee productivity (less time scheduling = more time for running their businesses) 
Adding Online Scheduler to the Snapshot Report is a powerful tool to help your prospects visualize their ecommerce efforts and opportunities for improvement. Check out the Online Scheduler update by running a Snapshot Report today, or take a look at our selection of resources below: 
Find CalendarHero in the Vendor Center 
Read: 6 Ways Online Scheduling Can Boost Profits and Productivity
Have questions? Feel free to leave a comment below. 
Can we use a custom calendar link? For example a HubSpot meeting link?