Hey community,
I'm Swapnil, the Product Manager for Task Manager. We've recently introduced a number of improvements to Task Manager that we're hoping help you and your teams work from home.
I wrote a blogpost detailing some of these features - How Can Vendasta's Task Manager Help Remote Teams.
We're looking to continue this #ProjectRemote initiative, and I'm curious to hear how working from home is going? We'll be able to use this to plan our next stretch of work and ensure it helps you out.
Let me know down below, and I look forward to speaking with you!
Hi Swapnil,
Really like Task Manager. Wanted to see when you think you will have a Manager Dashboard to see what is going on for all the teams? What will it look like?
Best,
Jeff
One last question. Can I buy Task Manager as a stand alone product? Just use it to manage my internal projects?
Hey Jeff, we just released the new Task Manager Productivity Report page and it can help you get insights on the work your teams are delivering. I've attached a screenshot here, we would love to speak with you and take you through it!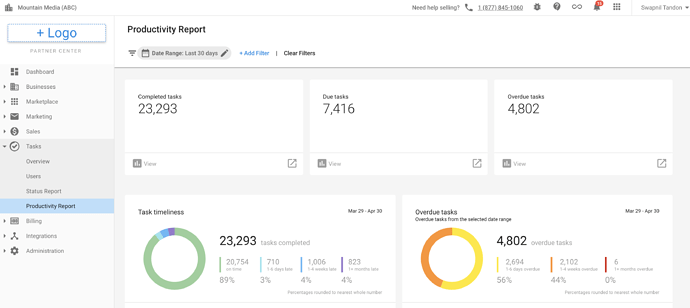 Wow! I love it. This is what I was looking for to have a high level manager look.
Thanks!
Swapnil, coming along nicely!
I'd love to see how we can integrate Task Manager in our everyday operations, to have repeatable excellence in canned checklists of tasks that we repeat in client setup and on-going account management.
We have a few project managers who are eager to learn how to use Task Manager instead of Basecamp.
Thanks @dennisyu!
We are more than happy to help your team adopt Task Manager.
Client setup is completely automated in Task Manager because of our integration with Vendasta's ordering system.
Please let us know a date/time when we can setup a meeting with your team.