Listings

Call for Trusted Testers: Citations Are Coming to Listing Builder
We're getting ready to launch a Citations page within Listing Builder, but we need your help!
We're seeking trusted testers to receive early access to this new proof-of-performance feature.
Why do citations matter?
Any instance where the name, address, or phone number of a business is mentioned online creates a citation. Every new citation created enhances local online visibility and boosts ranking on search engines like Google and Bing. With Listing Builder now showcasing citations, your clients can watch as their total number of citations grows! ↗
If you're interested in being a trusted tester, please respond in the thread or send me an email at ljasem@vendasta.com.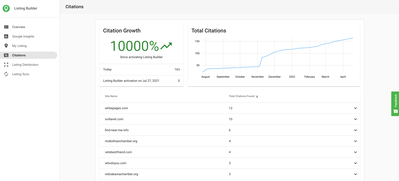 Like usual, I would love to contribute as trusted tester again. 
I would test it out and give feedback ? 
You bet. We're interested here!