Marketing Automation

Teach + Upsell = Winning Combo: new recommended email campaign for Instagram released!
We all know that upselling and cross-selling to our customers is important but reaching out to each and every customer one-on-one is a time-consuming process, especially if they require multiple sales touchpoints to engage. 
Even if you are having those direct touchpoints, another major challenge is providing relevant and useful information in your upselling and cross-selling efforts. Who wants to buy from someone who is selling you something you won't even use?
Here at Vendasta, we want to help take some of the go-to-market work off your plate and as a result, we're happy to introduce the first in our refreshed series of recommended email campaigns!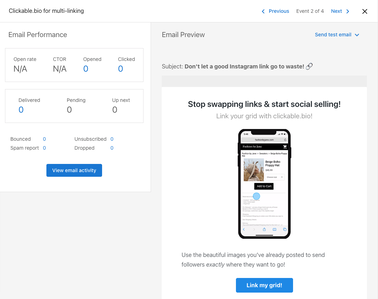 ---
Available under Marketing > Product Upsell > Reccommended Campaigns, "Shoppable Instagram: Adoption and Upsell" is an ideal email drip campaign for a customer who has purchased a DIY Social Marketing solution because it balances providing value and encouraging questions. 
The first two emails focus on how and why to use Social Marketing to its fullest ability with Instagram, while the last two emails encourage the recipient to consider offloading some of the work in optimizing their Instagram profile through Do-It-For-Me posting or digital advertising! 
The campaign was built using our refreshed Email Builder (out now in Early Access) and is available for you to customize and send to your customers today!
Have any requests for more recommended email campaigns? Have a sure-proof email campaign strategy you want to share? Let's talk about it in the thread!
Love this! Particularly useful for those wanting to upsell a user from Social Marketing Express to Social Marketing Pro, which can be completely self-serve if Vendasta Payments is connected.
To quote my favourite infomercial of all-time: set it and forget it!