You asked and we answered. You can now incorporate a prospect's Snapshot Report directly into a proposal to show an undeniable connection between their opportunities for improvement and your recommended solutions. Click the Snapshot Report button in Proposal Builder's document editor to get started!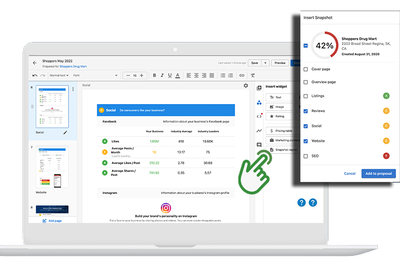 Hot tip: Generate the Snapshot Report ahead of time. We recommend this for two reasons:
Snapshot Reports are a great prospecting tool. Make a strong first impression by arriving at first meetings armed/prepared with insights on where your prospective client's opportunities for growth lie and a recommended plan of action. Once you have their attention, it's time to build a proposal.

Snapshot Reports can take up to 24 hours to generate. Ensure the report is ready in advance to avoid delays in issuing proposals to your prospects.