Upsell your SMBs to custom packages through Express products
Now, Vendasta Partners can upsell their clients to their own products and services! Customize the upgrade path from an Express product to any custom package you wish, filled with your own products and fulfillment services.
Click here to watch a video of how to get started!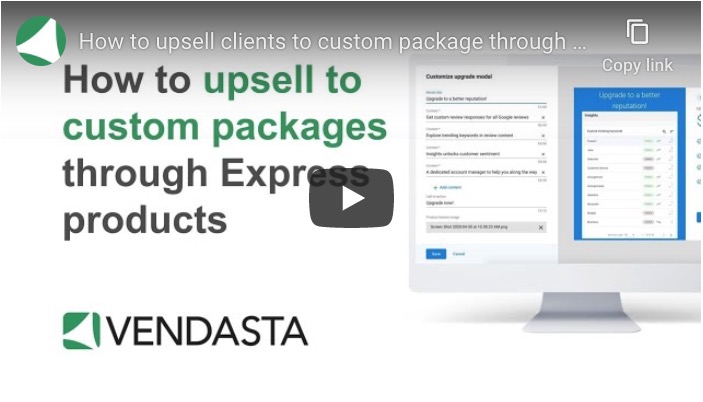 Imagine this: A client of yours has engaged with Reputation Management Express and loves the free product. Now they wish to upgrade. Previously, their only option was to upgrade to the Pro product. Not anymore!
Now, when your clients click 'Get Pro', they will see a customized upgrade modal with your key selling points, an image, and a custom call-to-action.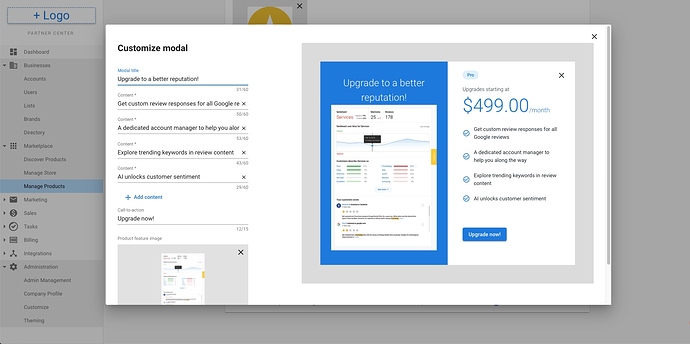 Customize the content in the upgrade modal1848×922 161 KB

They will be taken to the order form to purchase your custom package, which is full of products you've handpicked from Vendasta's Marketplace and your own custom products and fulfillment services. That means offering your highest revenue-generating products to your already engaged SMBs. How great is that?
This is DEFINITELY one of my favorite releases this year. I see so many Vendasta partners using the free Local Toolkit to reach out to businesses in need – being able to earn their trust now, then have the ability to upsell them on any of your packages in the future is such a great idea.