Listings

New Release: Citations available now!
Looking for another way to show proof of performance? 
Citations are now available for all Partners and their clients who have Reputation Management activated (either Express or Pro). Use Citations to emphasize the value of Listing Builder and why it is an essential component to your online marketing strategy.
Partner Center > Listing Builder > Citations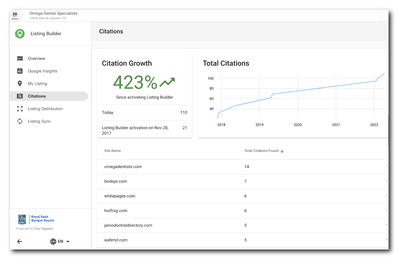 In addition, we've taken major steps to improve the citation results. All new citations will be validated by our search process that includes a combination of the NAP data (name, address, phone number). Going forward our team will continue to monitor the results to ensure you and your clients are getting accurate citations. Big thanks to our Trusted Testers for help making this launch possible!
Click here to learn more about this release. View our Citations Getting Started article to learn more about what citations are and why they are important for search visibility.