Business App

Business Profile now has a new location in Business App.
The Business Profile page has been moved from its previous location in settings into the top-level navigation menu so it will always be visible and easily accessible anytime while using Business App.
What is Business Profile?
The Business profile page is an important component of a business's digital presence. It allows you to update information such as the hours and location clients should know and which social media accounts they can find your business.
How do I access the Business Profile Page?
It's straightforward once your clients log in to their Business App account. They no longer have to go to the settings page to access their Business Profile Page but can access it easily from the navigation bar in "My Business," as shown below.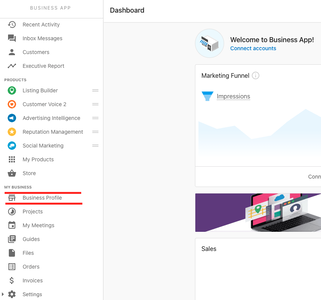 Business Profile stays in sync across products.
The Business Profile is also accessible from other products if they are active on the account, and editing the profile in one place will update it everywhere.
Listing Builder

Reputation Management
It's also connected to the account in Partner Center and Sales and Success Center, and editing it there will keep the business profile up to date.
What do I need to do?
No task is required; your business clients now have easier access to their Business Profile Page in the Navigation menu.