Welcome to Local ADvice - Identifying your Ideal Customer
We're going to take a weekly look at some bite-size nuggets of information to help with your digital advertising. 
In 2021, countless facets can define a particular user. By detailing characteristics, it will help you understand and identify your ideal customer with a new level of granularity.
How are you taking an audience-first approach to your marketing and business strategy? Where do your customers shop? Where do they live? How much money do they make? Where do they go for lunch?
Lets discuss.
Thanks for coming back for your weekly Local ADvice ?️ 
To paint the picture of the types of charactersistics a business can understand about their audience, see the image below:
Not only does this provide opportunities to make your ad message more relavant and more personalized in how you speak to them; but bigger picture - it can inform go-to-market strategies such as developing new products and positioning your brand.
This allows for a more consultative / strategic approach with the client. 
Is anyone taking this approach with your clients and leading with the audience?  If so, tell us about your experiences.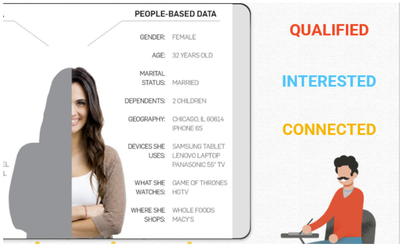 Thanks for coming back for your weekly Local ADvice ? 
To expand upon last week's post, below are the key advantages to defining and understanding your target audience:
You'll weed out the undesirables who aren't interested in the products or services you have to offer.
More effective marketing spending.
You can personalize your messaging to focus on their needs rather than the requirements of the entire marketplace.
It's a better use of your time—you'll spend less time following low-value leads and more time serving your best clients.
Once you've penetrated a target market and educated them on the benefits of working with you, you'll be able to establish a more significant referral basis.