Quick tip to find leads fast
Hey friends! 
Saw some of you were looking for ideas for getting leads.
Here's a quick tip I recommend to my partners that has had big success:
The leads aren't cold.. They're lukewarm and easier to sell into another meeting.
You can meet them at multiple price points, including landing with something small and expanding over time.
Maximize what they already have in place.
They're naturally invested into their marketing, as they're already driving awareness!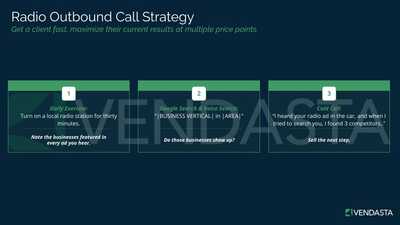 Substitute radio with other mediums as you choose,
Here's a draft script
I recommend to keep it short, sell a consultation / meeting as it's likely a hyper-local strategy.
Of course, edit this to fit your situation but I used something similar when I was cold calling businesses.
"Hey _________, I've only got a couple of minutes but I wanted to reach out. Got a minute?
I heard your ad on the |MEDIUM|, but when I searched I noticed XYZ.
We help businesses just like yours ensure that your business is positioned to capture those who search for your services and stop them going to your competitors.
I was upset when I couldn't find your business and I'd love to give you a free consultation to show you how you can make sure you appear in search."