COVID-19: Google has suspended new reviews and Q&A. How can businesses navigate these changes?
On Friday, March 20th, Google announced some temporary changes, in particular to reviews and Q&A. These changes were made in order to protect local businesses from reputational harm, while also reducing the need for staff to come into their offices.
Specifically, Google has suspended new reviews from being posted and disabled the ability to respond to reviews. Questions & Answers have been completely removed from the knowledge panel.
What do you think? Do you commend Google for these precautions to #protectlocal? How are you helping your clients navigate these changes? We just published a blog on the topic—you can check it out here.
It's important to differentiate that reviews are not being prevented from being made, they are just not immediately publishing them like you would normally see. Tested this, myself.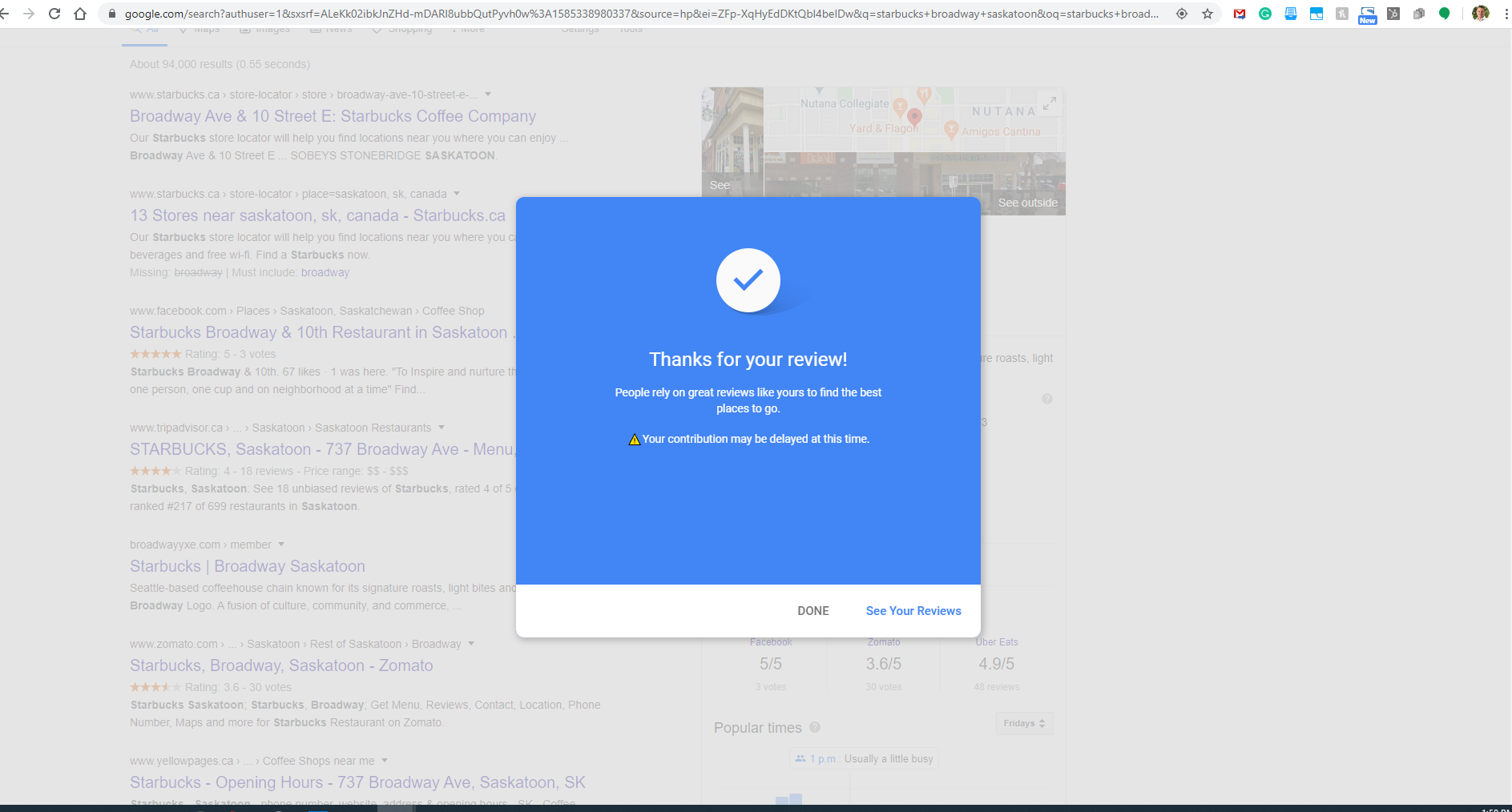 We're currently unsure if reviews published during this time will post after the restriction has been lifted. Google has yet to make a statement on this, however, we have reached out to our contact at Google to confirm.
Monitoring reviews once Google has restored this feature will be very important. Businesses may see an influx of reviews that are no longer relevant, but may still require a response from the business.
Currently strategizing on what the best course of action for managing reviews will be once things are running as usual…
We've been pushing to other review sites since this update. Facebook has been a great alternative, but we'd really like the search power than comes with Google reviews, especially with a lot of brick-and-mortar businesses relying on their online presence to boost their eCommerce presence.
Sure seems to me like this has been lifted. We have personally reviewed some businesses as well as our clients have received reviews.
Hi Steve. Thanks for joining us in the Community!
It's interesting that you've begun seeing some action already! The last update from Google was this, on 4/8/2020: "Review replies are now available. Over the coming weeks, new user reviews, new user photos, new short names, and Q&A will be available. Their availability will gradually expand by country and business category."
That's some quick action by Google! You must be in one of the first areas Google is restoring functionality to as we're still getting confirmation that reviews are down for most. We are keeping a close eye and will update this thread with any more information we get straight from the source.
Another update: We are seeing in our system that businesses in automotive, shopping and restaurant categories are seeing plenty of new reviews come in. For now, however, it's unclear if any reviews posted during the hiatus will be published.
Google Q&A functionality has yet to be restored.
I'm curious: are your clients seeing reviews come in? If yes, how are they handling them?
As of yesterday, Google has modified their Help article to say that they will be gradually publishing the user reviews that were delayed due to the hiatus. This is good news for many but some businesses might receive some particularly negative comments related to COVID-19. Need help navigating those reviews? Check out our Ultimate Guide to Reviews to provide your clients with some proven ways to respond!
Has anyone seen any COVID-19 related reviews being posted yet? I'm curious if Google is gating them.
I wanted to give an update on what we're seeing in Reputation Management regarding Google's recent hiatus. Hope this gives some clarity to you, our Partners, especially those with Reputation Management and Customer Voice!
TLDR: Everything seems to be back to normal! Reviews and Google Q&A have returned for most (if not all) businesses in our system. There may be some stragglers depending on business category + location. Here are the details:
Review responses are available [as of Apr. 8]
New reviews are now being published for most business categories [as of Apr. 17]. Google reported that reviews are gradually returning by category and location, however, we've seen plenty of reviews come in across a wide range of categories!
Delayed review s left during the hiatus are being published [as of Apr. 28]. These are timestamped with the date the reviewer originally submitted the review.
We have seen Google Q&A return to the system [as of Apr. 24]