Sales & Success Center: Zoom video conferencing now available
21/06/2020 2:42 pm
Topic starter
As more people look to connect with each other virtually, we've worked to make that easier than ever by bringing Zoom video conferencing into Sales & Success Center! This makes it a seamless experience for salespeople to use this software in communicating with their clients.
Once their Zoom account is connected to Sales & Success Center, a salesperson can start and schedule meetings with any contacts they've added to their accounts. This allows them to connect safely while still providing the value of a face-to-face meeting.
Check it out!
21/06/2020 3:11 pm
Topic starter
Hi Dennis,
Good news, the team was able to get that fixed and Zoom should now be showing on the integrations tab. I just checked your account myself and it's now appearing for me.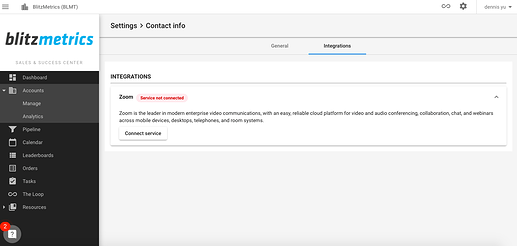 Give it a try and let me know if it's working for you now and what you think of this new integration!