Task Manager

Project Tracker! Have you used this awesome feature yet?
Hi everyone!
I'm Jeremy, the Product Marketing Manager of Task Manager. As organizations continue to work remotely, I'd like to shine a spotlight on one of my favorite Task Manager features - sharing your projects to clients in Business Center (Project Tracking).
For an overview of this feature, check out our support article here: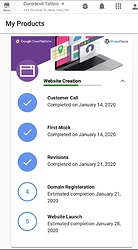 Project transparency mobile1204×2171 209 KB

Have you used our project tracking feature yet? I'd love to hear what kind of projects you've used it for, and what Vendasta can do to make this feature even better for you and your clients.