Snapshot Report

Snapshot Report has been enhanced with Local Search Results
We understand that SEO can be a difficult concept to understand and position, which is why we're excited to announce that Snapshot Report has enhanced this section with our brand new Local Search Results! 
Found within the SEO section, we now provide a clear and visually engaging way to show your prospects how well they're doing in Google Search! 
So what do our Local Search Results include?
Map showcasing how a business ranks in Google Search within a 1/2 mile radius with a dynamic hotspot selection

Search ranking breakdown on both a local level and a citywide level

Dynamic search results the top 3 results for any hotspot selected, along with where the prospect's business falls within those results

Clear indication if the prospect has claimed their Google My Business Account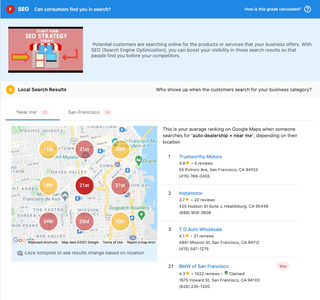 This can be an extremely powerful tool in helping your prospects not only visualize their own SEO in action but tie together all the data presented in Snapshot Report! 
This is now available to any newly created Snapshot Reports. If you'd like this added to an existing Snapshot Report, simply refresh the data and this will appear. 
Check it out by running a Snapshot Report today, or take a look at our selection of resources below: 
And if you're looking for great strategies to pair with this new data, take a look at the fantastic "How to Conquer Local SEO" Guide we recently published!
I cannot find this in reports anywhere, been looking for weeks
Love this!! great support tool and visuals always help!! Appreciate the updates and effort. k