Inbox

Inbox In-Platform chat in Partner Center (Beta) is now available!
We're excited to announce that starting July 5th, 2022, Early Access channel partners can now send and receive messages with SMB clients and Vendors within their Partner Center account! General availability date is set for July 19th, 2022.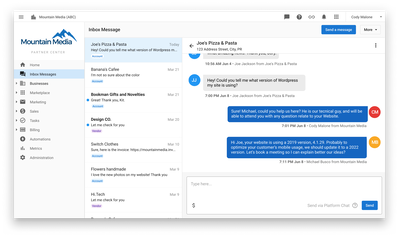 Why Inbox matters
Good communication is key to any successful relationship, including the one between a business and its clients. With Inbox In-platform chat, you have the following benefits.
Improved client relationships

Team collaboration

Transparency in messaging

Enhances brand Image
To learn more about Inbox and how it works, click the link below.
this is great, if there is any partner requesting to get early access to this, would we able to give them that?
Love this feature! 
One future enhancement that would be great to see would be the ability to have an automated first message that can be set to go out to new clients when we give them business app access.  
To go one step further - it would be great to be able to utilize the inbox messaging in automations.  I can think of a few I would build - some for messaging going out and some that trigger when new messages come in from the client.