Welcome to the New Year… and a new CalendarHero product release! 
January is here which means it's back to work and back to meetings. Make sure you're starting the transition into the office (in person or otherwise) on a strong note with this month's product release notes. This month, we're sharing a mix of recently shipped product updates and a refresher on essential features that will help you own your schedule instead of the other way around. 
Hit the ground running this year with an optimized scheduling workflow. Spend less time tinkering with calendar events and more time growing your business, connecting meaningfully with your customers, and unleashing new ideas, products, and services into the world.
Here's what's new in January:
Invitee Private Calendar Sync for Microsoft Calendars 
Ready to impress your clients and prospects? 
Invitee Private Calendar Sync is a unique and ultra-convenient feature for the people you invite to meetings. When an invitee responds to your meeting request and lands on the invitee scheduling page, they'll see your real-time availability and have the option to sync their calendar temporarily. 
By privately syncing their calendar, your invitee won't need to leave the scheduling page to check their calendar in another tab or phone. Instead, your invitee can spot their scheduling conflicts and seamlessly confirm a date and time they're confident works for them. Invitee Private Calendar Sync increases booking success and provides a more enjoyable experience for the people you invite to meetings. Plus, your invitee's privacy remains top of mind — calendar details are never stored and will remain private to the invitee.
Although this is not a new CalendarHero feature, previously, Invitee Private Calendar Sync was only available to invitees who used Google Calendar. Today, this feature is open to both Google and Microsoft Calendar users! 
Add a Full Name to your Default Meeting Titles 
Your meeting title says a lot about your meeting. Or at least it should. 
Nondescript meeting titles like "meeting" might lead to you forgetting who you're meeting with and majorly stressing out your Type A attendees, among other unintended consequences that lead to unproductive conversations. 
Want to avoid scheduling confusion? Name your meetings and appointments well! 
At CalendarHero, it's part of our mission to take the work and overthinking out of scheduling for our users. To ensure you never schedule a meeting without a title, each of your meeting types has a default meeting title that includes the first names of your invitees (e.g., "Demo: Jill/Mike/Sam"). This default title is used for your meetings when you don't add a custom title. 
However, a few of our customers pointed out that sometimes they'd like the option of including a first and last name in the default meeting title. Previously, we limited the default title to only include a first name variable. We're happy to announce that displaying a full name is now possible through our meeting title customization options!  
You can edit the default meeting title in your meeting types to display a full name by using the full-name modifier.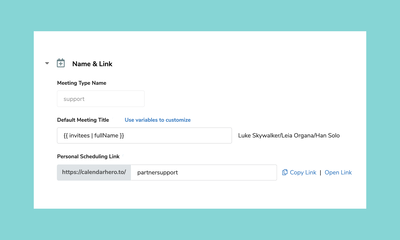 In the Default Meeting Title editor found under Name & Link in your meeting type settings, add a pipe symbol "|" next to a valid variable name like invitees and the modifier's name. To display a full name, type fullName. 
Click here for step-by-step instructions
By customizing your default meeting title, you'll be able to ensure that CalendarHero automatically names your meetings or appointments according to your preferences. 
Own Your Calendar In 2022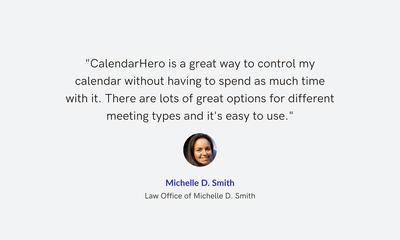 By making your scheduling process more efficient, you'll have more space for running your business. Become a master in time management and keep your schedule balanced by making the most of the following intelligent scheduling features.  
1. Meeting Limits 
Set your maximum daily number of meetings. With Meeting Limits, you can have more control over your booking volume and customize your daily meeting limit for different meeting types.
2. Lead Time 
Don't get caught off guard by a last-minute booking. Customize Lead Time in your meeting types to ensure you have a minimum notice (e.g., one day) before a meeting is booked with you. 
3. Buffer Time 
Automatically add buffers before a meeting starts and/or after it ends. Buffers ensure you have time to prepare speaking points, review a client's file, and take notes or short breaks between meetings. Prevent back-to-back bookings with Buffer Time. 
4. Find Times 
Accelerate group meeting requests like executive calls and client demos. Instead of waiting for invitees who are slow to respond, you can speed up a group meeting by "force booking" the meeting based on time suggestions from those who have already replied. 
5. Schedule Over Internal Meetings 
Give important meetings priority in your calendar. With this feature, you can automatically schedule over internal meetings to ensure internal calendar events with your coworkers don't prevent a VIP client or prospect from finding an opening in your calendar.
6. Custom Availability Window 
Ensure meetings only happen when you want them to. In each of your CalendarHero meeting types, customize your availability window to the specific days and time slots that you'd like to have particular meetings. 
7. Holiday Scheduling Prevention 
Want more control over bookings during holidays? CalendarHero has an optional setting that prevents scheduling on holidays. By default, this setting is off, but you can enable it for any of your meeting types. 
Unlock the power of scheduling automation