19/10/2022 6:47 pm
Topic starter
I sent an email individually to a prospect.  I could not view it anywhere.  I contacted Support, and they saw and sent it to me from Events.  I should and want to be able to see emails I send, and if they are opened.  That's what a CRM is all about.
Here's the Support transcript:
(446 PM) Jonathan Marx: It was not a campaign email. It was in the individual account. I resent the Snapshot Report with a customized email I created from the standard one.
(403 PM) Jonathan Marx: In the Sales Center
(411 PM) Arul D: Okay, Let me check that for you.
(416 PM) Jonathan Marx: Thanks!!
(448 PM) Arul D: We can check this on the backend. I have access to it.
(452 PM) Arul D: I see the email.
(402 PM) Arul D: Let me send you a screenshot
(409 PM) Jonathan Marx: Great!
(443 PM) Arul D: I checked the events
(426 PM) Jonathan Marx: Please show me where I can find that? Partner Center? How do I get to the Screen you are showing me?
(427 PM) Arul D: It's Opened!
(439 PM) Jonathan Marx: Great news that's it's opened!!
(405 PM) Arul D: I am afraid it is an internal tool and partners don't have access to it.
(412 PM) Jonathan Marx: Oh no!!
(416 PM) Arul D: Please reach out to us to know the event details.
(422 PM) Arul D: Sorry about that : (
(441 PM) Jonathan Marx: I need a copy of the content of the email so I can send it to others. Can you email me that?
(402 PM) Arul D: Hmmm Let me check if i can download that
(408 PM) Jonathan Marx: Thank you.
(422 PM) Arul D: Shall i copy the content and forward via email?
(429 PM) Jonathan Marx: Yes, thank you.
Hello Jonathan.

We appreciate your suggestion to offer the ability for partners to view emails they have sent to clients. This feature isn't currently available, but I can see how it would be a valuable update to the platform! Thus, we have submitted this recommendation to ensure such suggestions gain quick attention from our development team.
Meanwhile, here is the workaround:
You can create a campaign with a custom email you wish to send to your clients.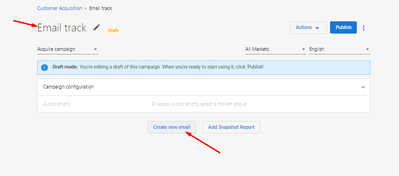 Once the email campaign is been published and active for a particular user you can see if the email was opened in SSC under the account's recent activities. 
For example :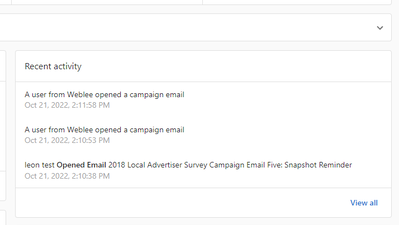 This should help you track any sent emails from the platform. On a campaign details page, you can view how many recipients received, opened, and clicked through each email in the campaign. You can also view how many times an email bounced, or how many recipients unsubscribed from an email.
I hope this workaround helps. 
Thank you 🙂