Last Login Time of Client Users
23/04/2022 8:24 am
Topic starter
Hello,
When viewing the user accounts, it would be great to see the last login time like we can for "My Team" users. 
In addition to this, it would also be great to have the option to create an automation based on the length of time a client is inactive in the business app.
I feel this can be turned into a great opportunity for client follow up discussions that could potentially lead to upsell opportunities. 
Kind regard,
John
Hello John – thanks for the feature requests! I've noted the request about "last login time", good idea.
I wanted to let you know there's a way to trigger actions based on inactivity with the automations system right now – there's a trigger, "when a user is active in Business App" and when you combine that with Delay step, "wait x days" and the Rate Filter, you can trigger actions based on an SMB not being active in Business App for a period of time.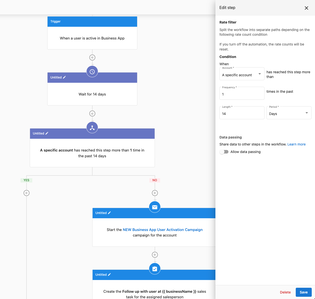 This would start a timer when a user is active in Business App, and if they don't come back in the specified time period, then it triggers a next step - e.g. like a campaign or a notification. 
Hope this helps,