Business App
[Solved]

Customers to manage their Business App users
26/05/2021 7:51 pm
Topic starter
Just ran into an issue in which a client's new Team member invitation wasn't received by email. So they tried to find where to confirm the new user account, so they could manually create the password but it was nowhere to be found - just the blank "Invite team member" page...until I realized all users are managed that from the PARTNER level "Users" page. Ary reason why customers can't manage their own users? Seems like an unnecessary task for Partners to have to deal with. Sure, it'd be nice for partners to have master access, but would be helpful for customers to be able to manage themselves 🙂
At least in the meantime, instead of just a blank page and no indication that the user invite actually went through, explain to Biz App user that user mgmt needs to be done by partners.
Thanks for the feedback Douglas – we actually have Business App user management in testing, and just haven't released to outside users yet as we make sure we can fully support some of our partner's more complicated ways of giving Business App to their clients. Some partners limit the seats, or charge by seat. Some partner's need a way to white-label some of the users. And so we've had some push back on fully releasing SMB user management.
But we might be able to release an uncomplicated version of this page, and simply allow partners to disable it if it conflicts with their business models – It sounds like your model would have no issues with letting your SMB users invite whoever they want?  Thanks sir!
 @joshbaker I was shocked to find that I can no longer create a password for a user. Neither am I able to customise the 'Welcome Email' message.
I consider this a backward step in making it as easy as possible for people to do business with us. When setting someone up casually it is more friendly for me to send them their login credentials with a personal note than to send them a standard welcome email asking them to do something and a separate personal email.
I would like the option as we had before, please.
Hello Tim,
I apologize for the confusion here. I'd like to work with you to understand your concerns in more detail. We do allow some level of customization where you can add a custom message (see screenshot); however, I realize this gives you a bit less flexibility than you previously had by sending your own email.
I'd like to give some context for the decision that we made. Removing the password fields allows us to make robust privacy guarantees for your clients, which in turn allows us to add new product offerings to the Marketplace that are privacy-centric (ie. accounting, payroll apps). Removing the password fields also makes the whole system more secure, removing commonly used temporary passwords which are more vulnerable to attacks. Lastly, it's also part of our GDPR initiative to be in compliance. 
All this being said, we should have done a better job communicating this change out, and I'd like to apologize for that.
I'm more than happy to have a chat if you'd like at your convenience. You can reach out to me at sbechdholt@vendasta.com.
Thank you,
Scott Bechdholt
Director of Product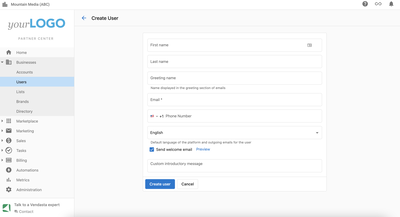 27/05/2021 11:50 pm
Topic starter
Thanks for the response Josh! Cool to know it's a feature that you've been considering. I understand how it could open up a can of worms for some partners however it would be nice to have an option that they could turn off if it didn't fit with their business practices. It is definitely a bit of a pain!
NOTE: The app in question was for giving a brand manager access to a customer's Cloud Campaign. It took a while to realize that for *some* reason Vendasta had requested that adding them directly through the app be disabled ...so that's why the customer has to invite them to the business app and not just cloud campaign. Giving them full access to the business app when all they need is Cloud Campaign seems a little strange but I'm sure you have your reasons!