[Sticky]

? Register now and win a $500 Visa gift card at Conquer Local Connect!
Hi Conquerors,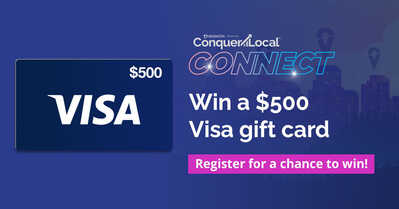 We're putting the finishing touches on Conquer Local Connect, our flagship virtual event on March 23, 2023, @ 12:00 PM ET, where you'll learn the latest sales strategies and technologies to succeed in the digital age! Have you registered?! 
By registering, you'll have the chance to win a $700 CAD / $500 USD Visa gift card ?. It's a win-win situation - attend a great event for free and get a chance to win big!
Here's what to expect:
Robert Knop, CEO of Assist You Today, will discuss how businesses can reinvent their sales strategies to adapt to the digital age.
Joel Stevenson, VP Growth at Vendasta, will explore how technology is changing the game for agencies in the evolution of sales outreach.
Jacqueline Cook, COO of Vendasta, will demo how your agency can solve the problem of pipeline generation and conversion.
Darren Zawada from demandDrive and Bradley Fishman from Manhattan Venture Partners will share insights on how they use dynamic and personalized content to drive leads.
Jay Schwedelson, Founder of SubjectLine.com and President and CEO of Outcome Media [Worldata Group], will lead a breakout session on how to 10X your sales with proven email outreach strategies.
We hope to see you there!
Topic starter
Posted : 17/03/2023 1:49 pm