643: Transform your Agency with Proven PR Strategies | Catherine Bangel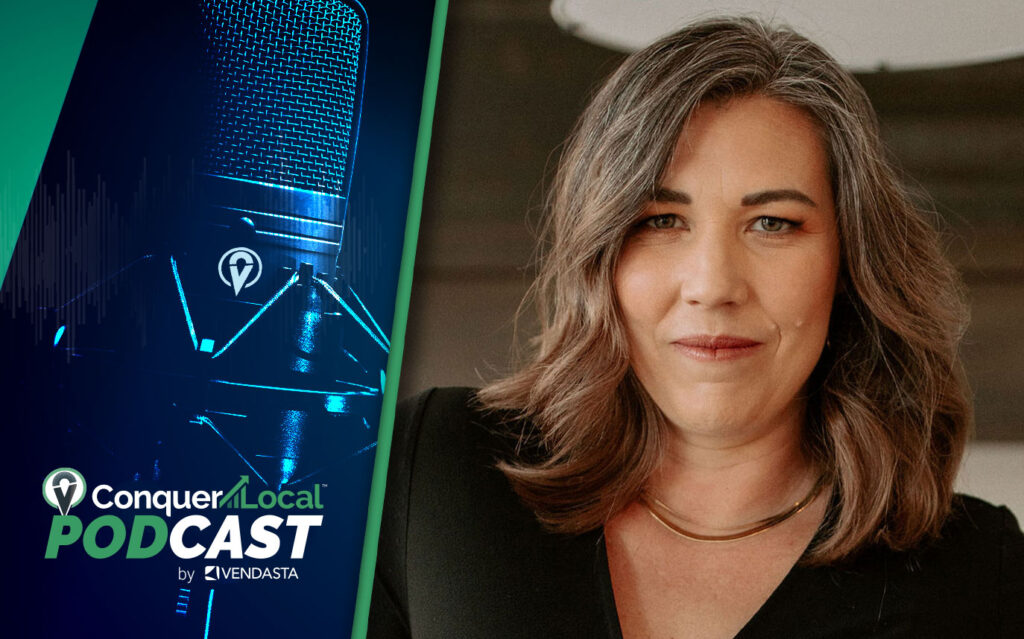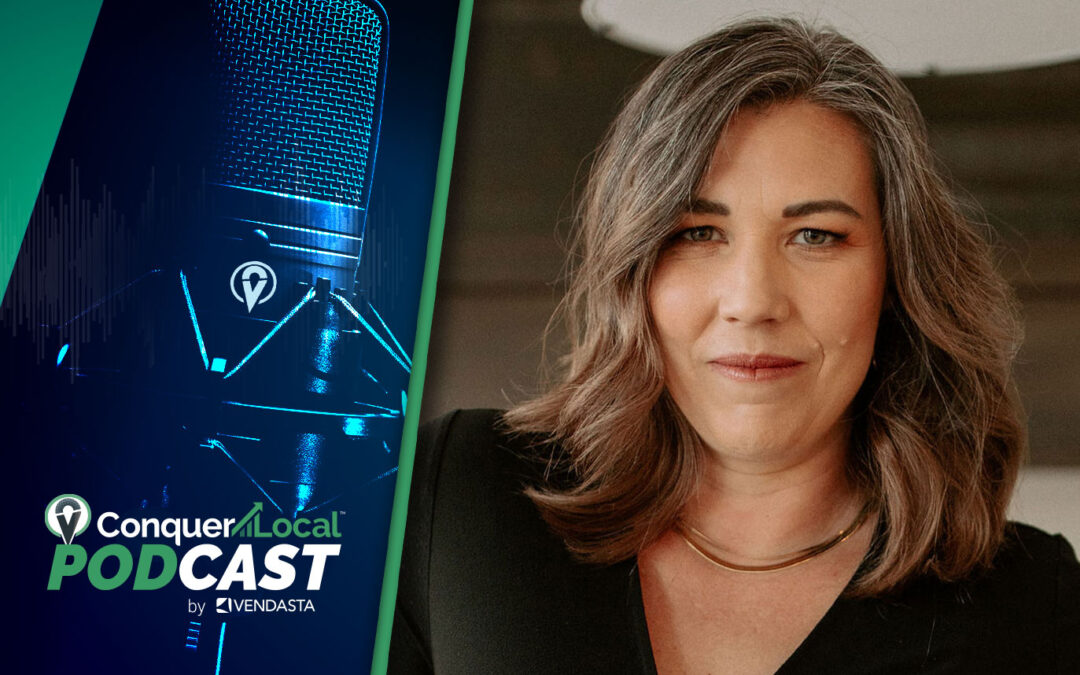 Have you wondered what it takes to blend a successful PR career with a passion for advocacy?
Join us on the Conquer Local Podcast as we welcome Catherine Bangel, the founder of Bangel PR, a boutique agency specializing in PR, media, content creation, and social media management. With over a decade of experience as a former CBC and Global Television reporter, Catherine brings a wealth of expertise. Beyond her professional achievements, she founded Bangel PR when her eldest was just nine months old.
Catherine's advocacy extends to supporting families with children with disabilities, collaborating with organizations like the Cerebral Palsy Association of Alberta. And her efforts have resulted in successful fundraising campaigns, securing government funding for essential drugs. Holding degrees in Political Science and Journalism, Catherine is passionate about storytelling, both professionally and personally.
Tune in to discover her inspiring journey, blending entrepreneurship, PR prowess, and a commitment to positive change!
Conquer Local is presented by Vendasta. We have proudly served 5.5+ million local businesses through 60,000+ channel partners. Learn more about Vendasta and we can help your organization or learn more about Vendasta's Affiliate Program and how our listeners (like yourself) are making up to $10,000 off referrals. Are you an entrepreneur, salesperson, or marketer? Keep the learning going in the Conquer Local Academy.
Are you an entrepreneur, salesperson, or marketer? Keep the learning going in the Conquer Local Academy.
Transform your Agency with Proven PR Strategies
Introduction
Jeff Tomlin: Welcome to the Conquer Local Podcast! Our show features successful sales leaders, marketers, thought leaders, and entrepreneurs who will inspire you with their success stories. Each episode is packed with practical strategies, as our guests share their secrets to achieving their dreams. Don't forget to check out and subscribe to our YouTube channel for the video version of each episode, where you can see our guests in action. Tune in to learn the highlights of their remarkable accomplishments and get tips to revamp, rework, and reimagine your business. Whether you're a small business owner, a marketer, or an aspiring entrepreneur, the Conquer Local Podcast is your ultimate guide to dominating your local market. Tune in now to take your business to the next level!
I'm Jeff Tomlin and on this episode, we're pleased to welcome Catherine Bangel. Catherine is the founder of Bangel PR, a boutique agency specializing in PR, media, content creation, and social media management for a diverse range of clients, with a focus on not-for-profits and local businesses. With over a decade of experience, she previously worked as a radio and television reporter for CBC and Global Television, covering major events and elections at national and international levels.
Beyond her professional achievements, Catherine is a dedicated wife and mother of two daughters. Her personal journey includes starting Bangel PR when her eldest child was just nine months old and advocating for families with children with disabilities. She has partnered with the Cerebral Palsy Association of Alberta and played a pivotal role in a successful campaign to raise funds for a child with Spinal Muscular Atrophy, leading to government funding for the drug. Catherine holds degrees in Political Science from the University of Alberta and Journalism from the University of Regina. Her passion lies in storytelling, both professional and personal, to make a positive impact.
Get ready Conquerors for Catherine Bangel coming up next on this week's episode of the Conquer Local Podcast.
Former journalist turned PR professional discusses career transition and success.
Jeff Tomlin: Catherine Bangel, welcome to the Conquer Local podcast, it's great to have you. We just went through the introduction and your background. Former CBC reporter, Global Television, and then at some point you made your move over to the dark side, moved to the world of PR.
Catherine Bangel: I did.
Jeff Tomlin: And so maybe you can talk a little bit about your background of where you were, how you got to where you are in your own words.
Catherine Bangel: Yeah. Well, thank you so much for having me, I'm thrilled to be here. I was a television reporter in both, well both television and radio for CBC, and Global for many years. And after covering many years of death and destruction, I decided maybe to take a happier route, and so I went into PR and communications, as most former journalists do. I started with the RCMP, which is still a little bit of death and destruction and then moved to the city of Edmonton, where I did communications for them in their community services area. And then I had a baby. And I call that baby my happy accident because I went off on maternity leave and people started to track me down at home. "Could you do a news conference?" "Could you send a news release?" Could you do this? As you're rocking a baby, "Sure, yeah, I could do that. "I could do it." So I accidentally started a PR firm on maternity leave and never went back to an office job. And it's been 12 years now, that baby turned 12 yesterday. And it's probably been the best thing that I ever did. I've gotten to work with so many, not-for-profits, corporate companies, organizations that do incredible work, and I get to be part of all of those different things, and every day looks different.
PR success: Child's dream fulfilled, global story, emotional impact and free publicity.
Jeff Tomlin: So you're a storyteller, and you spend a lot of time with not-for-profits, and a special place in my heart for them. A lot of them, they struggle sometimes to get the sort of the resourcing, and the attention that they need to really be successful. So tell us a story about a nonprofit that you've worked with where your efforts through PR made a difference in their mission.
Catherine Bangel: You know, not-for-profits have also a big place in my heart, and I would say they have largely kept my company afloat. I think PR firms often maybe stray away from working with not-for-profits because they maybe don't think they have the budget to be able to float a PR firm, but I will tell you that is where the best stories are. That's where the best people are. And they do have some budget. I will tell you, as a company that is still floating 12 years later, they do indeed. I think the one that stands out for me the most, and I've done so many over the past 12 years, was when I was working for the Winspear Centre, and the Edmonton Symphony Orchestra, which is not a not-for-profit, however Ronald McDonald House is, and they came to the Winspear Centre because they had a seven-year-old boy, his name was Jordan Cartwright, and his family lived in Grand Prairie, Alberta, they had just lost their house to a fire when Jordan was diagnosed with leukemia. And so through being at Ronald McDonald House, and through doing therapy, he'd been doing a ton of music therapy and became just in love with classical music. And so he wanted to conduct the Edmonton Symphony Orchestra. And so Ronald McDonald House came to us, and asked if he could be part of the symphony, and at the Winspear. And so we arranged through the Winspear Centre, the symphony, and then through our PR efforts on one of the Christmas concert nights, the opening night of the Winspear's Christmas concert, Jordan conducted the Edmonton Symphony Orchestra as they played "Oh, Canada" off the top of the night. And so we did a ton of PR and media for both the Winspear Centre, the Symphony, and Ronald McDonald House. And it's crazy sometimes where PR can lead because you know all you need is a really great story, and of course, we had one, and we knew we did. And so we had local press come out and cover it that night. But Dez Melenka who's a community reporter at CTV Edmonton, her story, I watched it go across the country. I watched it jump into the United States on NBC, ABC. I watched it cross the pond and was on BBC, and made its way all the way to Asia and into Australia. And it was played, that story aired all across the world. And so that's kind of the power that PR has. And did I know it was gonna do that? No. I'd love to take credit for that and say I knew it would, but the amount of money that amount of publicity would've cost us, and yet it was totally free. And the Winspear Centre, the Edmonton Symphony Orchestra, all of our efforts for working with a not-for-profit, Ronald McDonald House, that story got told all around the world. So that one has a special place in my heart. I have trouble talking about it without crying because I've met Jordan and his family, and they're incredible.
Jeff Tomlin: How can that, like not-
Catherine Bangel: That's probably my favourite.
Jeff Tomlin: How can that not make you feel amazing? That is-
Catherine Bangel: Right?
Jeff Tomlin: Such a cool story.
Catherine Bangel: That was a pretty good Christmas.
PR prowess: Mobilizing moms, celebrity aid, and $3 million medical funding success.
Jeff Tomlin: Yeah, no kidding. And so we talk to so many, we talk to a lot of agencies. We talk to small business owners all the time, and no matter what type of business you are, if you can become a great storyteller and tell great stories, it makes all of the marketing efforts, and general promotional efforts around a business feel like you're running downhill, doesn't it?
Catherine Bangel: Oh, for sure.
Jeff Tomlin: And make all the change in the world. You know, you've got so many great stories. There's another story about some efforts that you had, some PR efforts that you had that raised something like a million dollars for funding for medical care.
Catherine Bangel: Three million.
Jeff Tomlin: $3 million.
Catherine Bangel: $3 million.
Jeff Tomlin: Okay, you got to-
Catherine Bangel: We had to raise $3 million in 12 days.
Jeff Tomlin: Okay, you gotta tell the story.
Catherine Bangel: I'll tell the story. I'll try and do it as quickly as I can. So a mom of mine, so I have a child with a disability, and so I know many other mothers with children with disabilities and one of them, her name is Lana, and her son, Kaysen, it was on the cusp of him turning two. And he has spinal muscular atrophy. And if you know anything about SMA, most children with SMA die before the age of two. And so we were about two weeks away from Kaysen's birthday. And there is a company that has created a one-time treatment that literally stops SMA in its tracks, it's called Zolgensma. But that drug is worth $3 million. And the Alberta government at the time was not covering Zolgensma. So imagine being a mother with a child about to turn two, he's already in a wheelchair, SMA has already stolen much of his ability, and now there's this treatment out there that you could have that could stop your child's progression of his disease in its tracks, and you can't have it. So, because I know so many moms with disabilities, and we all know Lana, about 35 of us mothers all came together and tried to raise $3 million over the course of a couple of weeks. And so with an army of moms behind me on social media, DMing and messaging celebrities, and just general people around the world, and then me doing all the PR for Lana, I had her on the front lawn of her house every morning talking to media. And their story also travelled the world. And about every single day, we managed to raise about $200,000 just through all of these moms on the other side, and all of the TV press. And so I could see it coming, but I knew we weren't quite raising enough. It was like 200 to $250,000 a day, and we had only so many days to get Kaysen to $3 million so that Lana could buy this drug for her son. But in the course of that, as a communication strategy, I knew that we had to do sort of three things. We had to raise awareness for SMA and drug treatment, I needed to actually raise $3 million, and I wanted to pressure the Alberta government into actually funding it because I was scared we weren't gonna make it. I could see that we weren't raising enough. Even though we were raising an astronomical amount of money every single day, I knew we weren't raising enough. And so I had politicians on Lana's front lawn standing there with her every day, we had her out front, doing phone interviews. She was doing podcast interviews. And then one day Ryan Reynolds donated money to Kaysen and his campaign, and he made it publicly known that he had donated to Kaysen. And so that's all I needed. I needed one celebrity with a giant name to donate a ton of money, and I grabbed his publicity, which is really what he was doing. He didn't give us $3 million. I'm sure he could have, but he lent me his publicity. And so with that we had stories across the country about how Ryan Reynolds had donated money to our campaign. And I could also feel it on the other side, that the Alberta government was starting to churn. And so by the time Kaysen turned two we had not quite raised $3 million, we'd raised about, I think one, 1.5, and all of a sudden an anonymous donor came forward with $2 million, and we reached our $3 million amount. Kaysen got Zolgensma at the Calgary Children's Hospital, and within a couple of months the Alberta government had come through with a deal with the maker of the drug, and it was added to the rare disease drug coverage plan here in Alberta. So now that kids with SMA who are born, within the first six months, I think, are able to get Zolgensma paid for by the Alberta government. And I did all that for free.
PR versatility: Big events, senior homes, COVID response and successful outcomes.
Jeff Tomlin: Oh my. But what another amazing story. You can do big things, and people put their minds to it. And what an amazing story about the power of PR and people coming together to move mountains. What a great story.
Catherine Bangel: Totally. And we didn't pay a cent for any of that publicity, right? That's the difference between PR and marketing that I think is often missed. Lots of people pay for marketing and don't really give much strength to the side of PR. And even earned media and traditional media. Obviously, traditional media is struggling, but I still say it's worth it because I've seen what it can do.
Jeff Tomlin: So you don't always work for free, I'm sure.
Catherine Bangel: I don't.
Jeff Tomlin: And so you get involved with events like the Fringe Festival up in Edmonton. And so those are big things that must demand a lot of your attention. Maybe shifting focus a little bit to some of the things that make you money. What are some of the challenges to running and pulling off supporting really big events like that?
Catherine Bangel: Yeah. I've been doing the Fringe Festival, the Edmonton Fringe Festival, which is the largest Fringe Festival in North America, I've been doing that, I think this was year seven for me, I was trying to count. But I'm sort of known as the festival PR queen. We also do the Edmonton Street Performance Festival, we do the Works Festival, and I'm currently doing the Lit Fest, and I'm doing Dark at Fort Edmonton Park. And so I just kind of do festivals all year long, and it's so much fun, and I love being on the ground. The challenge really is that it's not necessarily hard to get press for those types of big, big events, it's trying to tell their story, right? The Fringe Festival is a not-for-profit, it still requires donations, and it still supports artists. And, of course, over COVID I lost many of our events because of COVID, including the Fringe Festival, which for the first time in decades did not run. And so we've been trying to pull all of those festivals back into the light out of COVID, and ensure that people understand that they're a not-for-profit, that they do require your support, that there's all kinds of artists that also were struggling over COVID, and need our support, and need us to come out and buy a ticket, and come and sit our butts down in those seats and those shows, and pay those street performers on the sidewalk doing their amazing acrobatics and tricks and fire juggling and all the things. And so, especially for the Fringe Festival, I think I do almost 200 media interviews that I logistically arrange and pitch over the course of three weeks in August. So it's a lot of work, but our local media here in Edmonton and then outwardly is so, so supportive, and they come every year. And this year I toured some writers from New York through the festival. And so it's just a lot of fun. And I see it as a way of telling those stories that maybe most people haven't heard of.
Jeff Tomlin: A lot of different aspects of public relations, and communications work. You were also working with the senior homes through the pandemic, and from what I read it was another great example of big impacts that you can make with storytelling, and putting together a solid communication strategy. Maybe you can talk a little bit about that, because that's a totally different use case than big events.
Catherine Bangel: Yeah. I had Canterbury Foundation, also a not-for-profit, is a senior's home here in Edmonton. They have over 200 seniors that live in their facility. They just went through a $42 million expansion, and capital campaign, which we were helping support them through in terms of raising dollars to expand into a brand new memory care unit, and one of Edmonton's first end-of-life care facilities that would be inside a senior's home, especially a not-for-profit one in Edmonton. And so while we were helping them do that, very much an external type of campaign, COVID hit, and so all of a sudden we became sort of their internal communications arm at the same time. You've got 200 seniors, you've got all of their families, you have the care workers that work there, and we were already seeing deaths, and COVID-related deaths in other care facilities, especially down in Calgary. When COVID first started, I think one of those facilities lost 54 seniors, I think, within the first few weeks of COVID. And so we were really trying to communicate how well we were holding the line on COVID at Canterbury, and trying to maintain fear and try to keep calm, which is also part of communications. And so within the first few days, we realized that the seniors were gonna be locked down, they weren't gonna have their activities, they weren't gonna be able to see their loved ones, and so Canterbury was like, "Cat, what are we gonna do? "How are we going to keep our seniors connected to their families?" And so we implemented a comm strategy for all of the family members to be able to do. We were doing town halls, answering all of their questions. I was MCing online town halls, which we've never really done before, and had to kind of try and figure it out on the fly. And then we got all of the seniors' iPads, and schedulers so families could book in on iPad visits and visit their loved ones on an iPad. As you know, if you've ever tried to help a senior turn on an iPad, it's quite complicated.
Jeff Tomlin: Done it.
Catherine Bangel: So we had to get a schedule to… Right. We had to get a schedule together. And so the nurses are now running around Canterbury with iPads, trying to get all of their seniors on, talking to their kids and their grandkids. And we really just tried to keep communication open as much as we could the whole time. And then other things popped up during COVID as well. The Alberta government decided that it was only going to fund vaccines for publicly funded facilities at a certain point in time, which was devastating for Canterbury as a not-for-profit, not a publicly funded facility. They've been holding the line on COVID in their facility, hadn't had a single case for over a year, and then we finally get a vaccine, and we weren't able to get our hands on it. So I had all of the families start a letter-writing campaign for the Alberta government, we did a ton of media. I had the CEO of Canterbury out front in a mask talking to press, and the press were going to the Minister of Health at all of their press conferences, and asking, "How do other seniors outside of publicly funded facilities get access to vaccines?" And within a week, I could see it coming, again, I could see it coming, and within a week the Alberta government changed their tune, and all of a sudden we were able to get our hands on COVID vaccines for all of our seniors within Canterbury, and at every other non-publicly funded facility in the province.
Jeff Tomlin: Amazing
Catherine Bangel: It was a lot of work. I did not know when I had a senior's home email me, and ask me to do PR I actually thought in the back of my head "How would I do PR for a senior's home?" And I had no idea what that was gonna turn into, but it's also been one of those really incredible clients that we have still to this day that just has amazing stories that we just keep continuing to tell, and advocate for in terms of healthcare dollars.
PR power: Nonprofits offer storytelling gold, build community impact and reputation.
Jeff Tomlin: You know, the handful of nonprofits that I've worked with I've found incredibly rewarding, and I cherish some of the work that we did with them. Public relations professionals can make such an impact on the trajectory and the mission of those companies. If you were to give some inspiration to people in your field to get out and work with nonprofits, what would you tell them?
Catherine Bangel: They're the most rewarding clients we have. Obviously, I love working with all the clients that we have, and we've done amazing things, but there's just a wealth of story, what I call storytelling gold inside not-for-profits. And the people who are there have just the biggest giant hearts. They don't get paid a ton of money. They often wear multiple hats, but they're there because they believe in what they do. And so there's nothing better for a PR professional to work with than those kinds of characters, those kinds of stories. And to be able to see the impact that they have, and then the impact that you can add on top of that is just, it just makes my heart happy. And so those are the clients that we love. Those are the clients that have supported my own small business for 12 years now, and I wouldn't do it any other way. They're just incredible people, and they're willing to give you the shirt off their back, and they work so super hard to get you what you need as a PR firm. And those are the stories that need to be told. We all need to be supporting our not-for-profits, that's what makes our communities great places to live.
Jeff Tomlin: Love the conversation, and highlighting the power of public relations, and the impact it can have on telling stories for all sorts of different things. A couple of takeaways for the audience from some of your expertise, and the things that you've done.
Catherine Bangel: I would say don't discount public relations. Lots of people think "Oh, we need to market, we need to market, we need to market." People don't actually like to be sold to necessarily, but if you can tell a story, if you can give them some motivation through storytelling, that's what pulls at the heartstrings, right? That's what makes them buy a ticket. That's what makes them come. That's what makes them donate. That's what makes them tell a friend. That's what makes them share. That's the kind of marketing that in the end is gonna get you further, I think, than a paid advertisement somewhere or a billboard somewhere. Public relations isn't fast, it's slow, but it's so worth it. And I've built a business myself, not through any, I've never spent a single dollar in marketing for my own public relations firm. We have done everything we've ever done just through word of mouth, and it's because of the stories that we tell, and the people we align ourselves with, and the difference we make in the community. And that's what we're known for. And so even on my own side as a PR firm, and as a small business, those PR dollars are way better spent than any ad I could have ever bought for my company. So I would tell any company don't just put all your eggs in one marketing basket. You know, look at your storytelling, share your stories, look inside, figure out where's that storytelling gold in your staff, in your clients, in your testimonials and the things that you do as a company, and share those things out because it'll have such a huge impact, and really grow your brand and your reputation.
Gratitude for storyteller Catherine Bangel, contact at @BangelPR, bangelpr.ca.
Jeff Tomlin: Catherine, you're an amazing storyteller, and I wanna thank you for joining us on the Conquer Local podcast from behind the airport, on your vacation, by the way. We didn't tell people at the beginning of the show that you're joining us on vacation. And so I bid you safe travels on your way home. Thanks again for joining us here.
Catherine Bangel: Thank you.
Jeff Tomlin: If people wanted to continue the conversation with you, how do they reach out to you?
Catherine Bangel: Oh, I'm all over social at, just at BangelPR, and you can find us on our website at bangelpr.ca.
Jeff Tomlin: Well have an amazing last day of your vacation, and it is been a pleasure chatting with you.
Catherine Bangel: Thank you so much.
Jeff Tomlin: Hope to do this again sometime.
Catherine Bangel: Thanks for having me. I hope so too. It was nice to meet you, Jeff.
Conclusion
Jeff Tomlin: Wow, I enjoyed that conversation. Catherine really highlights the importance of storytelling in PR and even beyond the world of PR. A great story can garner extensive media coverage and raise awareness effectively, as demonstrated by her work at the Winspear Centre and the Kaysen campaign. It really shows how compelling narratives can generate substantial publicity and attention.
Another key lesson Catherine emphasized is the distinction between public relations and marketing. While marketing often involves spending, PR leverages storytelling and media outreach that gets people telling your story, often without the same expense. She's a real advocate for the value of PR in building a brand and community support, often without the need for significant marketing spending.
If you've enjoyed Catherine Bangel's episode discussing Public Relations for non-profits keep the conversation going and revisit some of our older episodes from the archives: Check out Episode 625: Building a Strong C-Suite Community with Jeffrey Hayzlett or Episode 619: Empowering Communities and Driving Economic Prosperity with Heather Thomson
Until next time, I'm Jeff Tomlin. Get out there and be awesome!