515: 10 Best Business to Business Prospecting Methods | Master Sales Series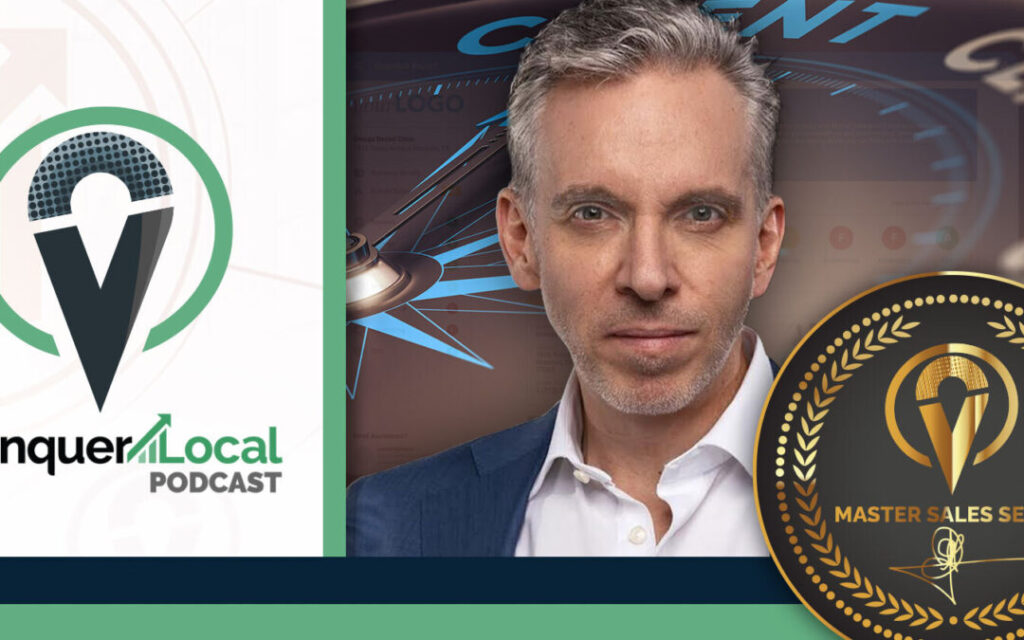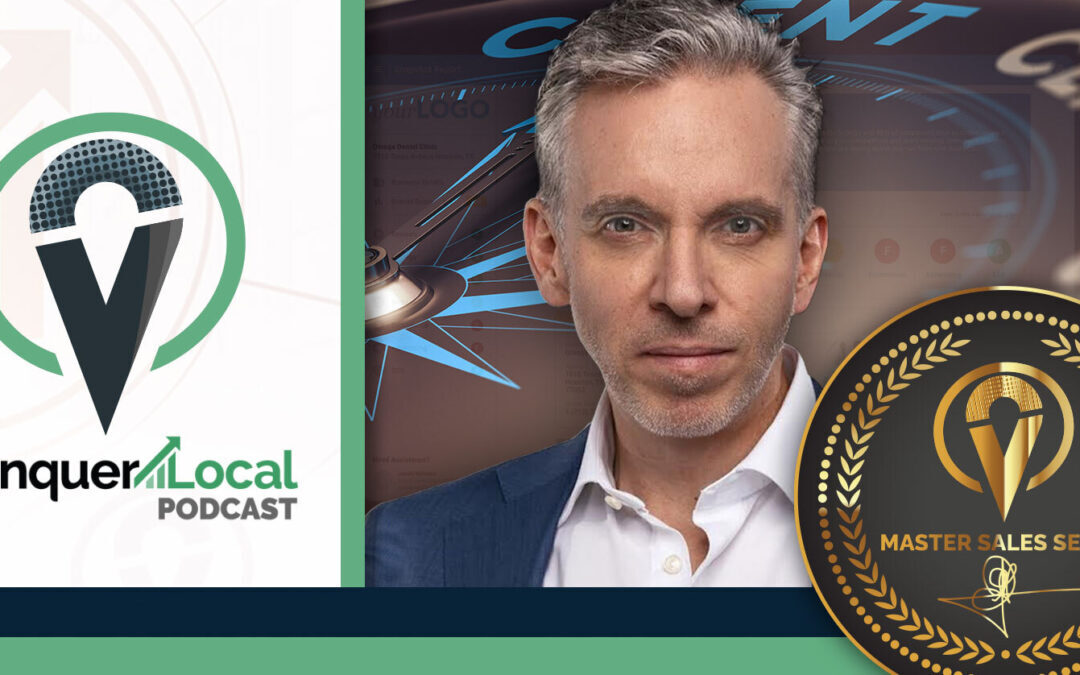 George Leith is a lone wolf this week, ready to share his industry secrets for the 10 best business-to-business prospecting methods. We know how draining prospecting can be, ensuring that new opportunities are constantly added to your funnel. You need to be a hunter, partner with other organizations, and deliver a message that's short and to the point. It's easy to get lost in these numerous communication channels, and operating uniquely in each can be tedious. You have probably heard of the items on our list, but George's use-cases and methodologies will provide you with an entirely new perspective on them. In this episode, George goes in-depth on the following B2B prospecting methods:
Face to Face
Email
Webinars and Virtual Events
Networking
Referrals
Cold Calling
Content
Advertising
Mail
Relationships
This episode is about taking care of clients. If you run a good business and take care of your clients, they will feed you.
Conquer Local is presented by Vendasta. We have proudly served 5.5+ million local businesses through 60,000+ channel partners. Learn more about Vendasta and we can help your organization or learn more about Vendasta's Affiliate Program and how our listeners (like yourself) are making up to $10,000 off referrals.
Are you an entrepreneur, salesperson, or marketer? Keep the learning going in the Conquer Local Academy.
Introduction
George: Welcome to this week's episode of the Conquer Local Podcast, a show about billion dollar sales leaders, marketers leading local economic growth, and entrepreneurs that have created their dream organizations. Every week, they wanna share their secrets, giving you the distilled version of their extraordinary feats. Our hope is with the tangible takeaways from each episode, you can rework, rewire, and reimagine your business. This is a special edition to the Conquer Local Podcast. From time to time, we cover the master sales series. And today, we're talking about prospecting. Business to business prospecting is about adding new opportunities to the funnel all the time. You need to have the mindset of a hunter to partner with other organizations, and to ensure that you're delivering a message to your prospect list that is short and to the point that cuts through today's clutter. In today's episode, we're going to explore the top 10 business to business prospecting methods to help you fill that funnel and drive opportunity in the most effective way. Get ready, conquerors, for another edition of the Master Sales Series, the 10 best business prospecting methods is coming up next this week on the Conquer Local Podcast.
1. Face to Face
Well, we're gonna kick off this episode with number one and it's good old fashioned face to face, but the difference is we're not face to face, maybe breathing the same air like we used to back when people carried a bag. Meetings and showing up where prospects are hanging out means a lot of virtual interactions. We're doing more and more of this face to face on a Zoom or a Google Meet or a Microsoft Teams or a CrankWheel or whatever system that you're using to facilitate that virtual face to face meeting. Couple of tips for you that we've learned. I'm not a big fan of virtual backgrounds. I've been reading a lot of material that shows that, what are you hiding back there? We're finding that a lot of people have been giving up their green screens and their virtual backgrounds to have an actual background and maybe putting some knickknacks on the shelf like you would have in your actual office that gives you some personality and makes you a human, a little less robotic. The other thing that we've been noticing is that we're often booked back to back. If you look at my calendar, it's a frigging brick on top of a brick on top of another brick, on top of another brick. And that leaves a lot less wiggle room for you to do some critical thinking after the meetings or even follow up on the things that you need to prepare for, entering data in the CRM, sending that Slack message to colleagues with maybe some nuggets that you learned on the call. So we need to ensure that our time is spent in a valuable way. So on these new face to face meetings where we're doing them virtually, I'd like to give you you a couple of tips that I like to use. Number one, there are no 30 and 60-minute meetings in my calendar. There's 20-minute meetings and 50-minute meetings. That's now giving me back about a 10-minute window in between because a lot of times people are gonna be late getting on the call and maybe you need that wiggle room, but it also allows me a couple of minutes to decompress, do some critical thinking, maybe have a quick meeting after the meeting with other colleagues that were on the call, enter data into the CRM, and then take a deep breath, have a glass of water and prep for that next virtual face to face meeting.
2. Email
Number two on our 10 best business prospecting methods, well, it's email, and email is still very, very valuable, but we have to do it right. If you are like me, I'm getting hundreds of emails from people trying to get my attention to get me on a call to try and do discovery, and then eventually try and sell me something. It's to the point where I am inundated with these emails and I can see them coming a mile away. What I want you to work on is focusing on subject lines that capture attention. A lot of times, I will make the decision on whether I'm going to click on that email and not archive it based upon a catchy subject line. One of the things that you can try and I like doing this with a closed group is you've got a couple of customers that really trust you and you build a lot of rapport with them. Maybe you could send them a sample email to test the effectiveness of the subject line before it goes out. I always like to preview the email and make sure that it looks good. And then ensure the message is relevant for the audience. One of the things that's working really well to get my attention, and I don't think there's a more scattered, all over the place kind of executive than myself right now, is someone that maybe grasps something out of a press release or a podcast that I've hosted or some piece of content that I've posted on my online newsletter. It shows that they took just that extra step to make that message super relevant for me, the audience that they're trying to reach. So I'm very bullish on email, but I'd like to implore upon you to do email right. And by the way, you're getting bad emails right now, so just don't do what those people are doing. Keep trying to have evolve. Keep trying new things and keep them short.
3. Webinars and Virtual Events
Number three, webinars and virtual events. Google Meet, Zoom, Teams, seminars, industry events, authority building, CrankWheel meeting, doesn't matter. There's a lot of things going on and we've gotta decide in our collective organizations what are we gonna do for a virtual event or a webinar. I think it's a glaring hole if you don't have one. I also think that you need to be considering how efficient this is. And I remember in my first days working at Vendasta when we started to build out our go to customer motions, we would do a webinar and I came from the media space and I'm used to talking to a lot of people, or at least I think I always talk to a lot of people, so when five people showed up to a webinar, I was super disappointed. And then I started to realize that I just got four hours back because the flip side to not doing the webinar is you're going to have to reach out to all five of those customers individually and perform the exact same content five times. It really is soul sucking work. And what happens is is that the first presentation is probably pretty good. The second one might be a little bit better. And then as you get tired, the third, fourth, and fifth start to slide off the map. So imagine hosting a great webinar or a great virtual event, getting all pumped up for it, having the team help you get the content together, you dial in some really good data points, you leave them with tangible takeaways and you get 10 people. I don't want you to be let down by that. You just got nine hours of your life back. And if you put together a really great webinar, that thing lives forever. We have put together over 200 episodes of the Conquer Local Podcast over the last five years. And our episodes from season one are as well listened to as some of our episodes from season four. And that's because we now have this corpus of content that lives online. I'm bullish on webinars and virtual events. It's the way that business is done today. So keep in mind that 80% of sales require five follow-up calls after the meeting. 44% of sales reps give up after one follow up. When you are producing these webinars and virtual events, it's your ability to touch the customer over and over and over again so they can become part of those follow-up calls. It's not you getting them on the phone. It could be you delivering a piece of content and letting them consume it at their own pace. And it's your content, so your brand is growing with its brand equity. I've been to a couple of in-person events. I'm not totally against them. I will tell you that CEOs and CFOs are starting to look at those budgets going, do we really need to spend that money? 'Cause we went through two years of not spending that money and hopefully revenue went up. We went to Locology in Los Angeles. It was a very well-attended event. I found that the meetings were very valuable because we'd had that large gap in in-person events. I also attended the Channel Partners Event in Las Vegas, packed, 6,000 people. It was one of their best held shows. But keep in mind, we were starving. We were starving for face to face. Those are two very high-profile events. The one thing I like about in-person conference events is that if I wanna go see those customers, I'd have to go to multiple cities. I would have to take weeks to be able to fit it into a travel schedule. It would cost tens, if not 20 or if not $100,000 to do all that travel. So by going to a conference, if you plan it out properly, you can plan a number of meetings, even if it's with existing customers. You can get them together. You can feed them a baloney sandwich and have a conversation like a quarterly business review with them. I also like hybrid events, and Cinda, our European friends, Kimberly Lewis, good friend of mine, she held a hybrid event and 60-75% of the participation because really people are still not all that comfortable with overseas travel, and that was my thing. If we go there and we get stuck in Berlin for a couple of weeks in a hotel, that's not really gonna be that efficient use of time. So we're finding that hybrid events are working. Usually, you see about that 60-75% participation. The odd event like Locology or Channel Partners very well attended because people are just starving for that face to face. So I think we need to embrace a hybrid approach, webinars, virtual events, and some in-person. It's not going to be an either/or. It's going to be an And.
4. Networking
Let's move on to our next item and that comes to networking. And I think networking looks a little bit different if you think that networking is always in-person. We weren't able to do that for two years. You probably had to build some new social selling skills to figure out how to network on LinkedIn or on YouTube or on Facebook or on Twitter or on Pinterest or on Clubhouse. Does that still exist? Does clubhouse still exist? It was big for a hot minute. That was how we were doing networking during the pandemic when we couldn't do in-person, and it's interesting. I have a hard time getting salespeople to understand how powerful this is. It almost like sometimes it's a paid announcement from LinkedIn. Now keep in mind, KV at LinkedIn has been a sponsor of this podcast, but I use LinkedIn every day to network and it pays enormous dividends, but it's not just people reaching out to me on LinkedIn InMail. It also is when I go in and I like somebody's comment that they've left or share it with my audience and put my two cents on there. When you do those things, it drives top of mind awareness of you and your company's brand. There's a new newsletter feature on LinkedIn. You have to actually apply for it. I've applied for the newsletter feature and for LinkedIn Live, so I'm foreshadowing. You're gonna start to see some LinkedIn Live stuff happening here soon on my profile. But the newsletter I named The Triumphant, this idea of triumphing selling. I'm a big fan of that. I've been using that slogan for a number of years. So The Triumphant launched on my LinkedIn profile and I was able to get 10% subscription of my audience, which is a little over 30,000 followers in 24 hours. 24 hours from the moment I launched the newsletter, 10% of my folks were subscribing, and now that's moved up to 20% subscription. And when I release a blog post, 'cause essentially that's all this thing is, is a newsletter blog on LinkedIn, I'm getting 80% engagement from that audience, which is now almost 5 to 6,000 folks within 24 hours of dropping the newsletter. That's how you do networking in 2022. And the traffic to my LinkedIn page has increased by over 1,000% from the moment I launched the newsletter. Trying new things and figuring out how to use these platforms to get the most eyeballs on your message is really what advertising and marketing is all about. Make your time on the ground valuable. So when we're doing network in location, like a conference, one of the things that we've been using is geo-targeted ads. There's technology that you can get. Local ads is a platform that I really like where you can geo-target all the phones in a building. So imagine at CES, 125,000 people attend that conference, it's the most attended conference in Vegas every year and you run a geo-targeted ad campaign around the entire convention center and maybe select a bunch of hotels that people stay at. And then we geo-target every phone in those buildings. And for the next 90 days after the event, you serve up an ad that is relevant to that audience. You can also check out episode 310 of this podcast where I dive in a bit deeper into some do's and don'ts of attending conferences. I've lost a lot of brain cells over the years going to conferences and we have some hard earned lessons of how to make them more effective.
5. Referrals
I also like referrals and we had Mark Hunter on the show here a couple of months back and he talked about referrals, from current and past customers, friends and family, professional colleagues.
6. Cold Calling
I also really believe in cold calling. In fact, I love cold calling. It's pretty cool. Let's go cold. When we go to a market on an in-person trip, it's like, why don't we go cold call that person? And the one thing about cold calling, not many people do it anymore, so it's kinda unique. It's like getting a handwritten letter in the mail. You're like, whoa, handwritten letter. This is cool and you run to open it up. Target company contacts. Use your personal database. Sometimes you can purchase a list. I also really like LinkedIn Sales Navigator. Use that online intelligence to make your cold calling efforts more effective.
7. Content
And content, we need to be building content. Gary Vaynerchuck talks a lot about this. Just listen to any of his content that he puts online, education-based valuable content, white papers, videos, infographics, articles, podcasts. You can never put out enough. Gary's quote that I love: "The biggest thing I can tell you is you have to make as much content as possible." We are our own platform. We use various social media platforms to reach an audience, but we need to become a platform unto ourselves. And all you gotta look is that folks like Vaynerchuck and Grant Cardone, and maybe even the Conquer Local Podcast, it has become a platform over five seasons. And we're continuing to figure out other ways that we can take and repurpose this content. You'll find that our blogs online, a lot of them map to episodes like this. Our social posts map to episodes like this. Our infographics will be capturing these 10 topics. So really think about becoming a content machine and use automation to broadcast your message to your ideal customer profile.
8. Advertising
Advertising, well, I'll tell you what, I've been selling it for a long time and I still believe in it. I actually might believe in it more now than I ever have because we can track it. We can start to see some return on that investment. We're starting to be able to build attribution loops so that we know that that message was received by the right audience at the right time and they took the prescribed action.
9. Mail
Oh, I talked about it earlier, good old fashion send something to somebody in the mail or by courier. This stuff is working again. It's exciting. You go to the mailbox, you open it up, there's something in there. It's actually addressed to you with like handwriting, so it's very personal. It's a surprise and delight factor that is off the charts. And what I'm hearing from some of the top marketers that I speak to the very best account-based marketing is when you send a box of something or you send a large envelope of something to a very targeted audience, and guess what? They'll now take your cold call.
10. Relationships
And then those relationships, that's number 10, and I can't stress how important it is, old school sellers like me that grew up carrying a bag, we believe that this is the be all and end all. Now, I think all of you that listen to the show know that I don't believe that anymore, but what I've also found is very technical sellers and marketers believe that relationships aren't as important, but I'm telling you, we are humans doing business with other humans and relationships are vitally important. So one of the things that I wanna talk about, a way that you can leverage a good relationship is to do a good job. And I know that that sounds so basic or 101, but I've found that people have a tendency not to have a lot of pride, and I don't know why that is. Maybe it's because at an early age, my parents instilled in me that if you're gonna do a job, do it right. I think that we could evolve that a little bit. If you're gonna do a job, do it excellent. Over deliver. That's the way to build a hell of a relationship with a customer. When you have a culture of being customer-obsessed in your organization, those customers will start to give you a referral because they truly believe in the value that you're offering. They truly believe that you deliver on your promises. Or if you miss the mark, you own it. I call it owning your shit and we profess it across the board. So it's not just about doing a great job all the time because sometimes you're gonna miss the mark. That just happens. But sit there, look the customer in the eye and own the mistake that you've made and promise that you'll make it right. I don't know a customer out there that would have a problem with that. In fact, they might even love you more because you didn't try to hide behind it or you didn't try to pivot. You just sat there, looked them in the eye and said that you would make it right. Here's a little trick that I've learned over the years. We all have these mobile devices. We all spend a lot of time scrolling. I don't think I have to teach anybody on this podcast how to scroll. We just do it now. How about scrolling through your contacts? I've found that that's difficult because I've got about 17,000 of them in my phone. So what I'll do is I'll just go to A and B today, scroll through A and B, look at them, who haven't I talked to recently? I wonder if they're even at the same job that they were at when I talked to them four years ago. Then go to LinkedIn, marry it all up, see where they are today and send a LinkedIn InMail message and keep that relationship alive. You could send a text message, but what I've found is sometimes those people have changed their phone numbers. So using some sort of a technology to augment that dataset, to make sure that you have the right contact information, that might be very valuable. Take that contact list in your phone, download it into a CSV, upload it into LinkedIn Sales Navigator and see how it marries up with the data. But my point here is there's gold there. You just have to be looking for it. Scroll through that list of contacts. Now, I'm gonna take you back in time. There used to be this thing called a Rolodex. It was amazing. You had it sitting on your desk and you could turn it and it had paper and you'd write on the paper about people. That's your Rolodex. That's your gold. That's your count list. That's your hard earned contact list. Make sure that you're utilizing it and utilizing those relationships 'cause you never know when they might bear fruit. We're gonna be back in just a moment after this break as we wrap things up on the 10 best business prospecting methods.
Conclusion
I've got a bonus for you. We didn't talk about timing. And I don't like using 11 'cause it just doesn't sound right to me. I like a 10. I like a 10 list. Top 10 to David Letterman. Timing is everything. You've gotta get the right message in front of the right audience, the right number of times at the right time. So it's frequency of getting that message out there 'cause you need to cut through the clutter. It's gotta be the right message. We talked about that earlier how you craft that right email message. It's gotta be the right audience, the right people that you wanna be talking to, but then timing is everything. Brendan King, CEO of our company, has this great line: "People buy when they're ready." And we've gotta remember that we need a constant cadence to that prospect or that customer list. And we can use robots to deliver the message. Back in the good old days when I was carrying a bag, I'd have to kill a tree, photocopy something. Then I'd have to kill a highlighter and highlight the item that I wanted. Then kill a stapler by stapling my business card to it and then kill the environment by putting fuel in my vehicle and driving across town to drop it on the prospect's desk. We don't have to do that anymore. We can use email. We can send SMS. We could send a physical mail package. We could courier something to them. We could send them LinkedIn InMail. We could respond to something that they posted online, but make sure that you're out there putting heat around that prospect or that customer because timing is everything. If you run a good business and you take care of your customers, they will feed you. That is a common denominator to everything that we talk about here on the Conquer Local Podcast and specifically on the Master Sales Series. Please subscribe and leave us a review. And thanks for joining us this week on the Master Sales Series. We unpacked, yes, there was 11, but the title is the 10 best business prospecting methods for you to exceed your quotas in 2022. My name is George Leith. I'll see you when I see you.