Vendasta Workshop Program
I'm excited to introduce the Vendasta Workshop Program to everyone!
We have created a number of interactive workshops on a weekly basis to help our partners use the Vendasta platform and effectively sell Digital Marketing Solutions.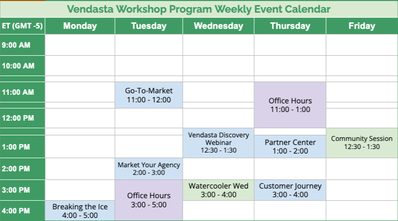 These sessions repeat weekly, and give you the ability to learn, and ask questions to our team of experts.
Here is a brief description of everything involved:
Workshops 
These sessions will help you learn how to use our platform and how to sell recommended packages.
Office Hours
These are drop in sessions where you can ask questions and learn from Vendasta experts, and your peers.
Community Sessions
There are still the amazing sessions hosted by the Conquer Local Community
You can register for these, and learn more through the Conquer Local Events page.