Promotional Videos
21/06/2020 2:45 pm
Topic starter
The white labeled promotional videos are great - I think a couple more would be great.
This video about email marketing is a great generic non brand specific explainer ( https://support.vendasta.com/hc/en-us/articles/360012042514-Email-Marketing-For-Small-Businesses ).
Could you create a non brand specific video for chat like the email marketing one (why chat is great, the differences between live chat and a bot, various uses like website, facebook, and follow up after the initial conversation).
Wasn't sure where to post this topic! It was this or the Let's Talk Strategy group.
Thanks,
Thank you Tyler and Ryan for your suggestions. Adding @RylanVendasta to this thread to these requests. #whitelabel
Absolutely, thank you Tyler & Ryan! Our content team met about this on Friday – there's a few weird things we need to figure out when it comes to white-label video distribution for our partners (such as platforms like YouTube often flagging duplicate content). I'll make a note of these suggestions once we finish researching this strategy. Appreciate it!
21/06/2020 3:14 pm
Topic starter
@RylanVendasta
Re duplicate content flags -
How much original content does it need to be?
I'm wondering if using a basic post-production video editor to add an intro and outro sequence around the white-label video and drop an overlay over it would be sufficient to avoid duplicate content flags.
Re the chat video -
I think the chat video request would have an even bigger use if it was about lead capture tools in general, so chat but also forms, pop-ups, click-to-call, etc.
Hi @Tyler_Zegil, duplicate content on YouTube isn't perfectly cut and dry. However, this page does a great job of explaining what it is and how you can avoid it. I hope this helps!


Morningscore – 10 Jan 20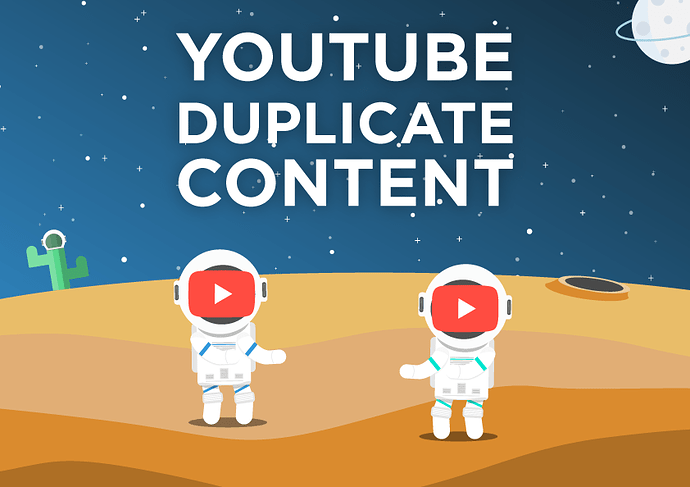 ? Understanding YouTube Duplicate Content - The Complete Guide
With 500 hours of content being uploaded to YouTube every minute, there are more and more people that dream of making a living being a full time YouTuber. And with such a staggering number of videos there are always some people that try to benefit...