22/04/2021 4:02 pm
Topic starter
I think it would be beneficial to have it where customers can upload their files to the system. I do a lot of graphic and web design. As of right now we use Google Drive to drop files into. If one could be assigned to each customers profile where they can just login to their account and upload files, that would be great!!!
TW
Hey everyone! Vendasta Task Manager has a solution for your customers to share files with you via the project tracker. If the fulfillment you are doing for your customers is being managed by your team using a 'visible' Task Manager project, then you can add a 'provide feedback' button on any task that you need feedback for from your customers. This automatically sends a notification to your customers, and they can provide feedback on the task, including the ability for them to attach files to send to your teams, directly from the project tracker in their Business App.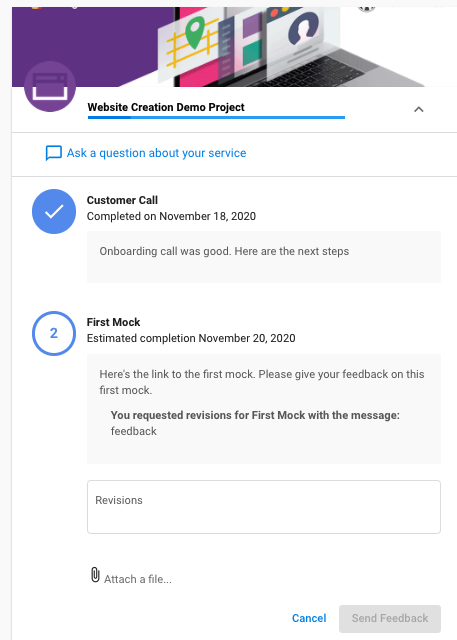 Hi Conquer Local Community!
I trust Swapnil's comments will help your teams going forward by allowing your customers to add images and files to your conversations! If I can help demo this feature, at a time that works well for you, please feel free to reach out anytime or schedule a meeting in the link below.
Thank you for taking the time to share your feedback! Should you have any other great ideas and suggestions for us, we'd love to hear your thoughts.
Looking forward to connecting with you again soon.
Roy Reif 
rreif@vendasta.com

Product Marketing Manager
Schedule a Meeting  |  Leave us a Capterra Review  |  Connect on LinkedIn